Superfuture Magazine / SEOUL : Koffee Sniffer Cafe Opening
커피스니퍼가 뉴욕 기반의 도시 여행 가이드 아카이빙 매거진 'superfuture' 에 소개되었습니다.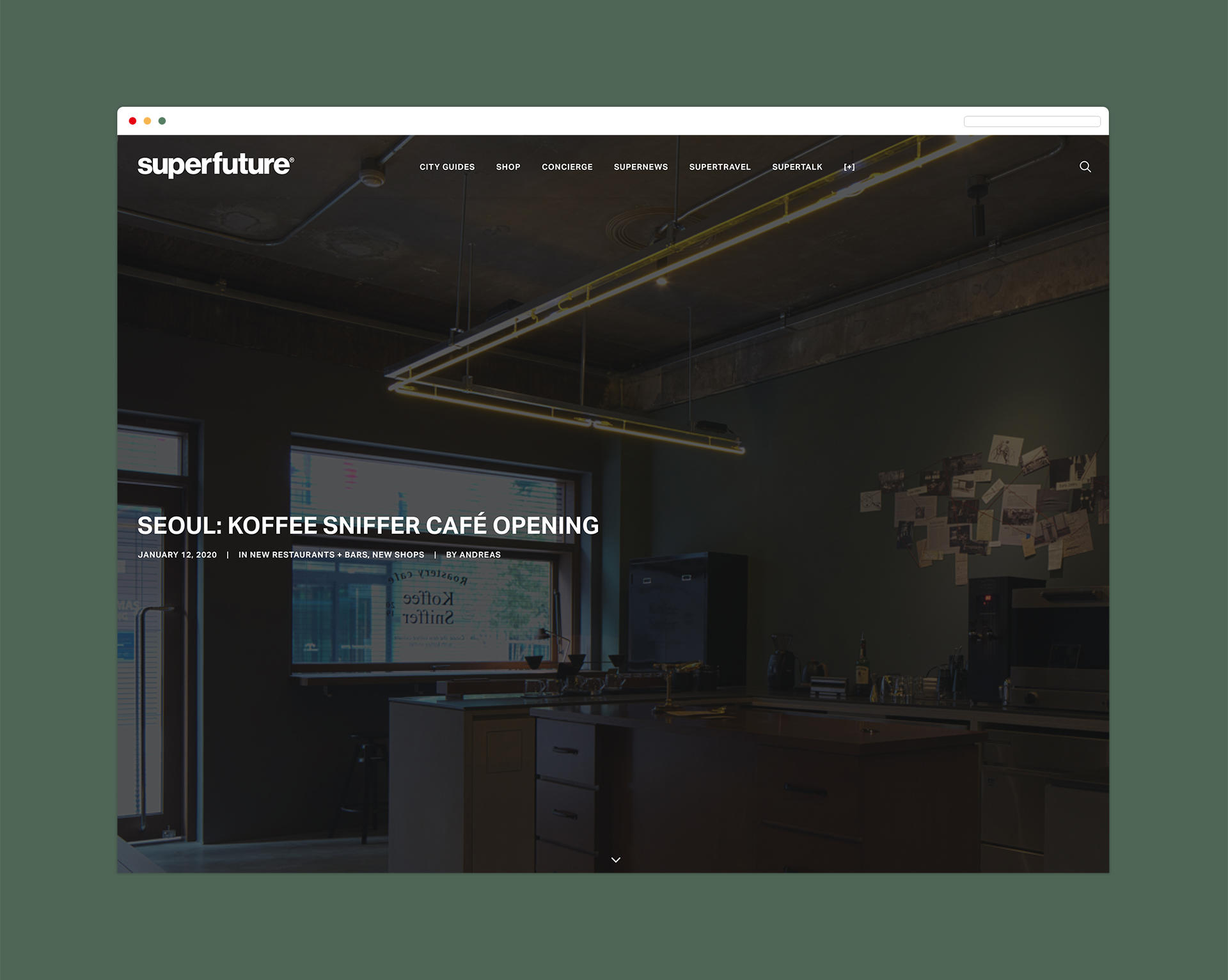 These days, coffee has practically become a global culture, and Seoul is one of those places where it has been embraced like nowhere else. Coffee parlours have popped up across town in various guises, offering a plethora of concoctions to a demographic of savvy consumers. A traditional 40-year old coffee parlour, tucked away in an alleyway in the city's bustling Myeong-dong neighbourhood, has been revamped by local architecture practice Plainoddity to perfectly match a brand new retail concept inspired by a peculiar snippet of 18th-century European history. Called Koffee Sniffer, the café occupies a 56 sqm. (603 sq.ft.) ground floor unit of a six-storey concrete building, and has been fully revamped. Its name is derived from the era of King Frederick II (1740-1786) who transformed Prussia into a European super power. However, the territorial expansion came at a cost, and after the so-called Third Silesian War, things went a little pear-shaped, resulting also in food shortages. As coffee was a prized delicacy for both rich and poor, and more importantly, not locally grown, so the goods needed to be imported, a very tight supervision on its consumption was instigated by authorised 'coffee sniffers'. But let's get back to the modern day Koffee Sniffer, shall we?

The newly opened premises are the physical retail exponent of an eponymous coffee brand run by a group of local baristas. As said, the location already housed a coffee parlour, but now sees a new brick façade and interior design. It's inspired by the actual coffee sniffer's mindset, featuring a monochrome palette which references calmness and determination, using khaki as a base colour. But at the same time, the setting also aims to signal a kinship amongst coffee aficionados, and it does so with a fully equipped service station at the heart of the premises which also incorporates an office-inspired wooden desk. A collage of photographs and cut-out newspaper articles adorns the wall as a nod to the aforementioned profession's investigative element. One side of the Koffee Sniffer café is lined with wall-mounted wooden benches, paired with small side tables of black metal. Two elongated benches dipped in a contrasting light blue shade. Interestingly, an original ceiling moulding in the middle of the space has been retained. Suspended neon light demarcates the service area and ties in with a similar light fixture on the façade. Koffee Sniffer's menu lists a variety of coffee concoctions, all made from freshly roasted blends from the company's own roastery. Mind you, the coffee beans can also be purchased at the café, along with related items.

27 Sejong-daero 16-gil (Myeong-dong)
04526 Seoul
Telephone: +82 2 37891781
Mon-Fri 8-8
Sat-Sun 10-8